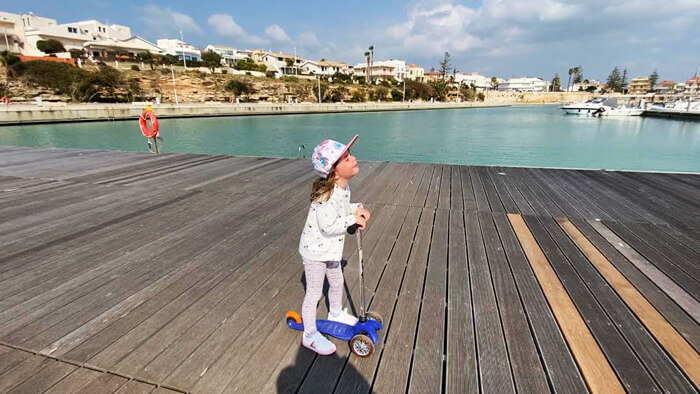 13 Apr

LIVE-ABOARD & WORLDSCHOOLING
Embarking on a live-aboard life or a part-time live aboard life (meaning you move onboard for the time of the sailing season) imposes a change on the whole family and often radical decisions on the children's education.
Often, while you are engaged full time in a corporate life and cruising only on weekends, the question of education during the long-term travel remains widely theoretical.
Of course, the style of education adopted during the travel is something that can always be decided as things progress. But things became very much concrete for us last year, before we even kicked start our sailing project and life imposed us a new vision.
Schools closed, most children life becomes 'extra-curricular'
Reaching a tipping point, ready to flip our world
Sharing the values and beliefs of world schooling's parents
Experimenting the progressive & informal learning theories
Schools closed, most children life becomes 'extra-curricular'
All schools are closing for an indefinite time. All private and public schools react with alternative online programs proposed for all levels. Even from Grade 1 .
With a busy schedule of two working parents, we welcome this as a blessing, until we realise it just does not work at all. Not for us and not for our girl. As an example, we had to prepare the lesson materials before the teacher was actually online, and by the time the zoom connection was established with 15 kids, the goal of the lesson was already achieved at home. Our child slowly lost interest for this sort of repeat session. Later, the group split:  some kids seemed to enjoy their online time with a smaller group, while others were becoming frustrated by the lack of interactivity and weak feed-back.
Considering the online time was limited to an hour a day for the 3 years old, most of the day was then considered as reinforcement and extra-curricular activities or reinforcement activities at best. However, how could most of the day of a child could be considered as extra-curricular? What did it mean about this time of school program? Also, after a few weeks of accompanying our daughter's progression daily, we realized that she was actually going much faster that the proposed program and needed to go farther. Also, everything was a game, a school activity is nothing different than a game.
Reaching a tipping point, ready to flip our world. 
Either we had to make a 'program' to the complement the offered school exercises (that we were completing in 20mn) or we had to adopt a change of paradigm. This is not until then, that Unschooling or informal learning really imposed itself to us.
It became an evidence that our daughter's learning time was not limited to the 'class' time and she was learning just all the time. We stopped the daily uncomfortable hour online school program and started to explore.
At this point, we faced a time issue as we needed to work ourselves, though in home office. That meant that we had to trust her and let her take some time off with no 'planned activities' until it was considered safe to have a babysitter coming home (note that this was the month we were all going to the supermarket dressed in astronauts and were welcomed back with a karcher at the entrance door). Anyway, this is only a month later that we realized that the best thing we did was dropping a fixed schedule and let our child relax. This at least was valid for our 3/ 4 years old.
Within a couple of months, we totally abandoned the school-system, hired a french baby-sitter with whom she had lots of fun and considered as a big daughter. Life was good.
Since she was 2 years old, Kiara attended an English Montessorian Pre-school in the United Arab Emirates and then joined an International School with a holistic program for Grade 1 in Malta. However, with the 2020 valse of schools opening/ closing, followed by a series of coercive measures of masks in class as from 3 years old, this was the end of our school experience.
As young parents, both of us reflected on the life we had at school and what we had missed in our young years. For myself, the answer was easy, too much school / not enough parents, long hours /exhaustion, injustice of being asked to learn exposes by heart rather than restating an integrated knowledge, no personal connection with the teachers. Unfortunately, compassion was not at the program by then. For my husband, it was the lack of interest for the teachers that did not share any passion while he wanted to be inspired. Also, there was a sense of disconnection of school with real life. He did not want a preparation for living, he wanted to live now. In the end both of us just had wanted more of freedom, respect and autonomy…
The international school we chose for our girl was really stepping outside of the coercive school cliché and with compassionate teachers, a green environment, she was happy there. However, we realized that she was learning more with us and was deeply missing us. The mandatory school system makes sense for some kids, and sometimes for some kids at certain stage of their development. 
Starting the home schooling, my first attitude was to believe that I would become the teacher of my daughter.
That was at least the way I presented it to her, and this was fun. But from teacher, I had to slowly understood that I was to become her follower.
This is a common place for adepts of 'progressive learning' but we were only taking our first steps and entering into the phase of 'deschooling'.
Deschooling is a word yes, a term invented by an Austrian philosopher (Ivan Illich). Imagine a decompression chamber, having for function a detox. In fact
 just time and space to loose stressing habits and get a feel for a new life together. The decompression worked well: 6 months later we packed most of our belongings and started a new journey.
It seems that each family on the path of worldschooling family goes through its own road of 'deschooling'. Finding the appropriate balance of formal and unformal education in function of the children personalities, lifestyle, beliefs and also parenting profile. 
Sharing the values and beliefs of world schooling's parents
The world offers a rich life experience to children. Travelling is learning, learning is travelling.
Time is key to discover and trigger passion. Know yourself…
Empirical learning engraves the knowledge and opens to new cultures from the inside. Become the difference, become the knowledge.
To a slow travel lifestyle coincide a 'Slow Learning' which is not a disability but revolves around the concept of freedom, respect of the rhythms and autonomy.
Time in nature improves happiness, creativity, and empathy.
In a year on this path, living in a third country, travelling to the family in France, sailing in the Mediterranean Sea and working in different regions with our daughter, what was initially intuition gradually became conviction.
Experimenting progressive & informal learning theories
Children learn 3 times as much when they are in tune rather than when they are forced to, they would learn twice less (1693 John Locke-philosopher) Letting lose, their learning curve is exponential.
We have to give children the freedom to learn while remaining confident that children can be responsible. Learning  becomes tied to their interests. They operate by jumps into certain subjects then drop them for others before returning. This should not cause fear.
Children learn about the world and through the diversity of people they meet, without restrictions of age, nationalities. Our job is to put her in a safe and stimulating environment, set resources at her disposal, and then be attentive to her needs and answer her questions.
Learning is not bound to a special place, nor to a special time. All our life counts as education, whereas we are on land, at sea, settled for a few months or travelling.
World schooled children are more mature, open-minded and comfortable talking with adults. It builds critical thinking and fosters leaders.
We do not exclude schooling again one day. Schooling can be a great way to learn more of a culture. And how exciting it is when we hear our friends telling us that their kids go barefoot in the new classroom and like it. After suffering a year in a Maltese private British school where bullying seemed to be the norm for little foreigners, it is a wind of hope.
If the parents adopt a mindful parenting, I believe that the schooling cursor does not have to be just on-off schooling: a mixed-education can exist. If the system of the country allows, we would envisage the experience while maintaining a part-time cruising life. And again, this will be based on our daughter emotional readiness and cognitive eagerness.
In the same way than we integrate some formal learning material in an informal learning. We use 3 different online learning apps for reading/ writing that our daughter uses just as other would use a gaming time. Everyday travelling life is a great source of learning and thanks to the internet, our Alpha generation kids extend their learning resources endlessly in all subjects.
To summarize, as my worldschooled-4-years old inspiritingly declaimed today imitating a dialogue with a skull, the only question remaining is: 'To be or not to be…"
Sources and resources
Reading Eggs App (3-8 years)
Montessori Pre-school App (3-6 years)
Marbotic (Apple)with smart wood letters and numbers for iPad (3-8 years)
For Teenagers : Project world school 
Unschooled: raising curious, well educated children outside of the conventional classroom By Kerry Mc Donald
I live therefore I learn: Living an Unschooling Life by Pam Sorooshian
Blog Apprendre en liberte