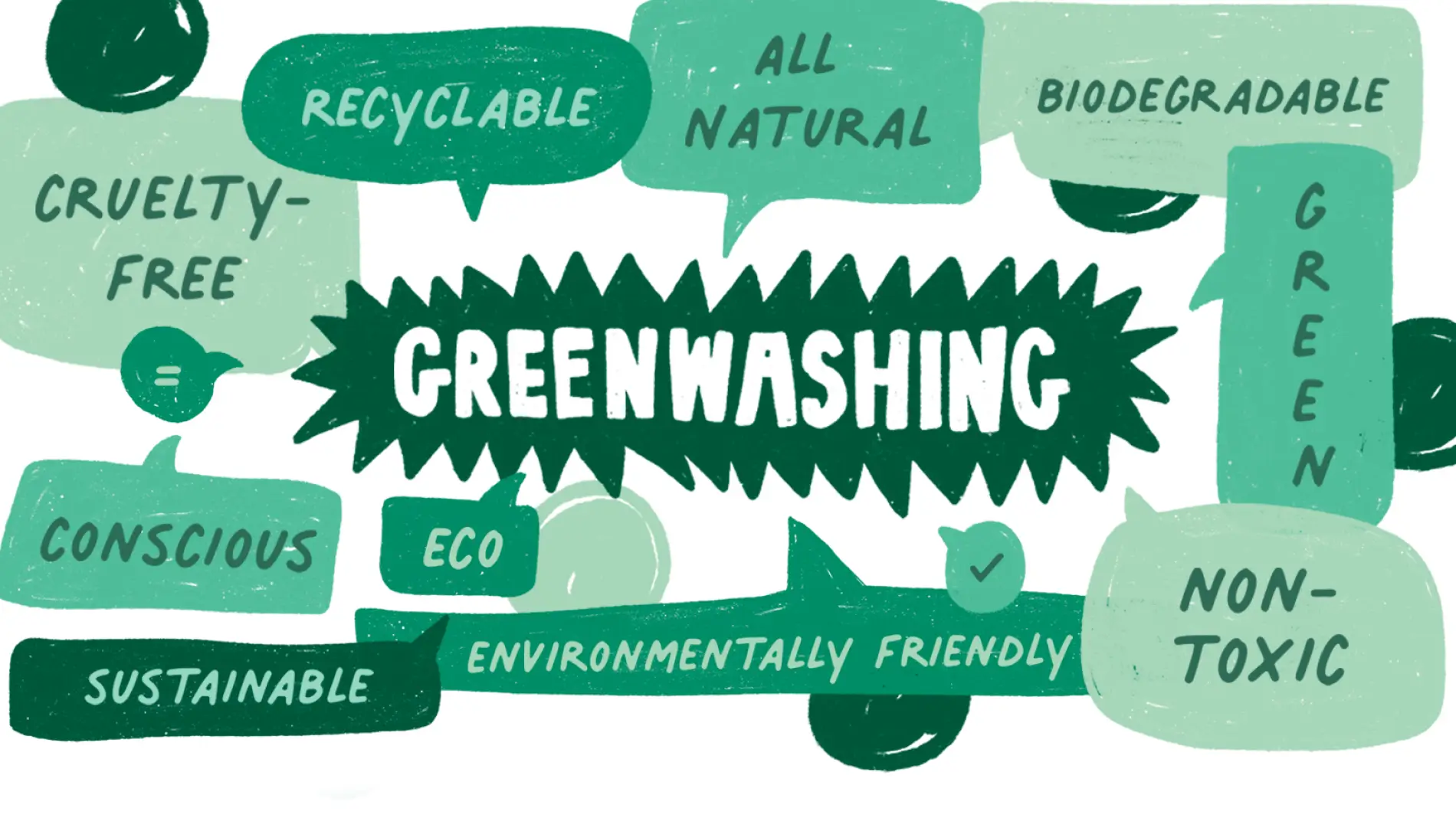 14 Jan

Is ecology legit in Dubai? Green school vs Green wash.

Following my article on Dubai first ecological school, you asked me if a school based in Dubai could really have an ecological action or if it was just greenwashing. Also how could we possibly live in Dubai with ecological values when in your opinion Dubai was I quote 'all artificial and barren, not proper to human life'?

I thank you for this opportunity to bring a more personal insight on our family experience and bring deeper layer of explanation on the article about the Arbor School which was maybe incomplete without knowledge and background on the UAE.

I want to answer your question in two parts, firstly regarding the legitimacy of an ecological mission for a 'green school', secondly regarding Dubai history and geography. And I will conclude on Green school versus Green Wash.
Is a 'green school' legitimacy based on the country?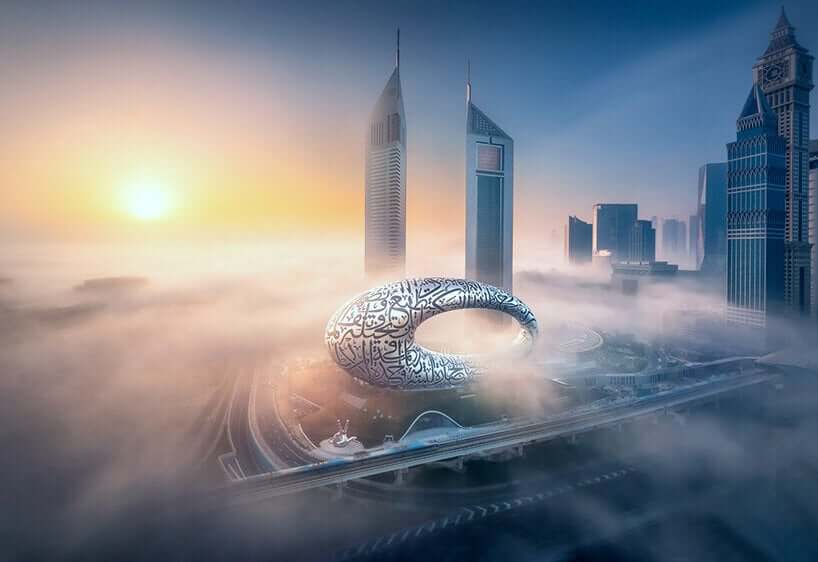 Dubai Museum of the Future – DIFC
Basically a definition of an ecology mission means how us, humans, part a community group with challenges to survive and thrive, can live in harmony with our environment minimising our negative human impacts, Based on this definition, you will agree that any school can and should have an ecologic mission today and in any country.
In my opinion, no school over another could be more legit to promote ecology because of its location; we can value environment and make it a priority wherever we live.
A green school based in France, Dominican Republic or let say Canada (a country with one of the largest water resources) is no more legit than a green school in an emerging country or a megacity. On the opposite, I would almost say that the greatest the resources challenge is, the greater the mission is. Each country has its own challenges and education is key to address the pollution and waste management.
Last year, I have witnessed the ecological disaster in Dominican Republic with its population trashing the most pristine beaches and mangroves in an horrific ways. I was saddened and felt powerless facing this lack of awareness in the population and all the more by the lack of means in the community to address the concern efficiently. Where we lived in Cabarete, most of the efforts came from private initiatives ran by a few expats supported by little groups of Dominicans, And every now and then I hear the sad stories of our friends based in Latin America or Asia seeing their island beaches trashed by the floating garbage patches coming from neighbouring countries.
An ecological school can be based anywhere. All the more if it is based in a city attracting millions of people for its quality of life and facing the great challenges of our world. And I believe a strong economy can lead to innovative green initiatives.
Dubai the capital city of an Emirate 13 times the size of Malta
This week, I just heard over the radio Dubai city hosted nearly 3.5 million people today! Unbelievable right?
It is more or less the size of Berlin. Not yet a megacity like Mexico, London, NY or Singapore. But a booming city which is expanding at a rate we can hardly believe our eyes. In 3 years I did not see the city expanded East on the desert and South. Entire new neighbourhoods have emerged from the sand.
But did you know Dubai is not just a city and concrete jungle? It is the capital of a a small Emirate 13 times the size of Malta and part of an alliance of 7 Emirates called the United Arab Emirates, a territory just about the size of Austria. But if desert covers most of Dubai Emirate, you'd be surprise to see it turning green after the rains. There are numbers of nature groups passionate about the local Flore and Fauna and experts who don't get tired exploring the country after 30 years.
I had myself the chance to witness in Ras Al Khaimah (North of the country), the sea turtle migration from a Stand Up Paddle… and swam next to big sharks in Fujairah (fortunately I only saw them from my husband drones footages later)…these are unforgettable memories which makes living in Dubai attractive.
So to answer in short your interrogations: Dubai Emirate is not at all a barren land hostile to human life. Actually know expats choosing to live in Dubai, leaving behind their homelands only because of the climate. With the winter storm that took place in North America in 2022, we can certainly understand them.
Yes Dubai climate is hot desert type but did you know it was stretching along the sea and had mountains?
It can be quite chill in winter in January we have temperatures around 15-20 degrees Celsius and flood rains some days. A friend of mine was actually surprised the other day when I told her it was raining and we were staying indoor for the day. She just replied genuinely 'Ah it's not always sunny and good weather in Dubai?'… Well no, we often have winds from the sea, sand storms, we witnessed a small tornado In November… not all kind of weather but still it is only +40C celsius about 6 months in the year. The rest is a gentle spring to European standards.

UAE agriculture and eco approach
Agriculture is a growing sector in the UAE as it needs to feed its population. The organic farms are growing rapidly sustained by a strong demand.
I receive directly at our home freshly picked up seasonal basket based on the mature harvest of Emirati organic farms, You can actually visit Emirates Bio Farm based in Al Ain (only 72km away from the Arbor School) and do a tractor tour with the kids, or book your veggies brunch at the farm on weekends.
Dubai is not so new….it was inhabited from Bronze Age. Nomadic cattle herders established a date palm plantation and thrived there.
Agriculture was made possible through complex irrigation systems. Actually, ou can still see ruins of traditional systems them if you venture out in the mountain wadis (river beds). In the last 2 centuries Dubai evolved from a coastal fishing township to the most populous Emirate of the U.A.E and the economic leader as you know it.
With its rapid growth and scarcity of water UAE faces many challenges but it is a modern country willing to invest for its future, there is a long term vision and a will to attract leading green ideas for agriculture. Funny fact: in the Carrefour supermarkets you can see vegetables and herbs grown onsite on shelves.
Dubai cares about their beach cleaning and have several marine reserves to protect their marine species (ok it collides with the money oriented animal shows… but one step at a time… I'll get to that in an other article).
The UAE fosters science and hosts companies leading eco-friendly technologies in waste management and solar energy storage ( Masdar City – Abu Dhabi where I used to work is a good example).
So, green school or 'green wash'?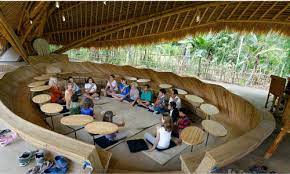 A class at the Green School of Bali, where the architecture and the environment is at the heart of the school system.
Greenwashing is anything which would talk about ecology for branding without true responsible practices.
Green wash is happening everywhere in the world simply because it sells. It sells goods for corporations, it promotes political parties. It is just a trend you can't avoid today why? Because we care about the environment and everybody now knows humanity will not survive without taking action today.
An example of a 'green wash' school would be one talking about fighting plastic and chemical pollution but not offering water dispensers for the pupils and serving non organic meals for instance. It would lecture about doing things better without committing each day to make things better.
The green education at the Arbor school manifests not only through the display of 'biodomes' with plants diversity, to run 'mindfulness classes', growing vegetables and using them in their organic cantine. Vegan meals are made available everyday and encouraged. The school also runs a 'Green fingers' program to teach children about crops and gardening to instaure as central this connection to land, soil and plants. Water dispensers are everywhere, parents are challenged to organise zero waste event and promotes car sharing etc. The Board is challenging itself to always find new ideas and engages the parents into its ecologic mission. The children are drawn to love nature and animals and learn from an eco-literacy program. It can sound basic but what is more authentic than that?
At the Arbor school, kids are split in four houses (yes just like in Harry Potters' school) following environment leaders' name. My daughter is actually part of the purple house which is named after Jane Goodall, the famous primatologist leading the Roots & Shoots movement. Breaking news: the kids will get to meet her at school soon!
Jane Goodall in flesh and bones at their school in Dubai! It is like meeting your empowering hero saving the wildlife, what most inspiring for children? (And the parent, I must say that I am a bit excited with this piece of news).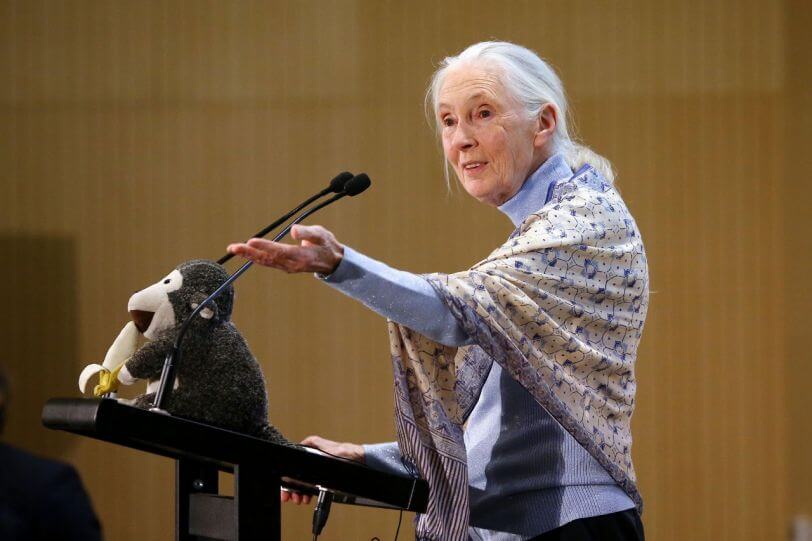 Jane Goodall at a conference in Abu Dhabi in 2015, presenting her program Roots & Shoots,
Behind all the 'Green Wash' Marketing and Politics, stand communities really engaged to drive a change and do little steps together where they live.
Continue to question any green label you come across as greenwashing is big and temptation is great.
Even the great school model the 'Green school of Bali ' itself could trip and fall over Governance issues now the School has been sold by its founder Hardy and is dealing with franchise strategy issues.
For any ecological school managing teams and owners, it is hard to find the balance between ecological mission and economical sustainability.
We should always question the brands, stay humble and grounded, kind to ourselves and continue working as a community.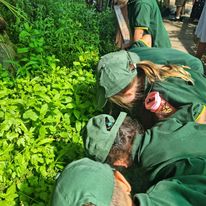 School pupils busy in a bio farm