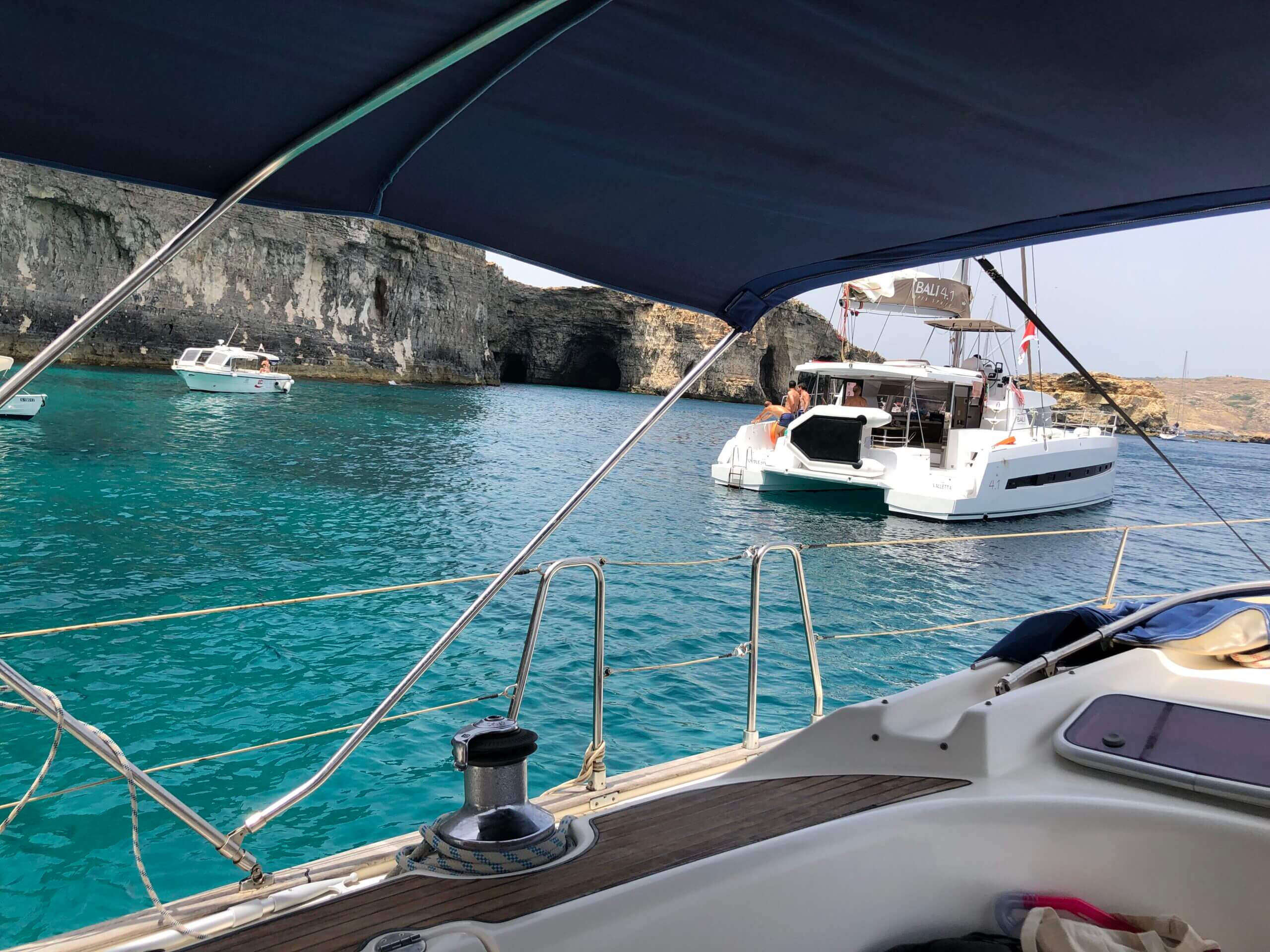 23 Apr

Boat charter and sailing in Malta
MALTA: A SAILING DESTINATION 
Malta has a long sailing season running from mid-May until beginning of October. Probably an unofficial record for the longest European sailing season. The little archipelago composed of three islands is rich of spectaculars emerald, turquoise and clear-blue waters making it a top destination for yacht charter holidays.
It is also a top location for sailing schools attracting students for their RYA license from all Europe. From experience, we can say that the Maltese sailing schools are competitive both quality and price-wise.
We just moved back to Europe after years in the Middle East. Life led us to this small island where we would become boat owners and enjoy long and beautiful summers. The serene waters of Malta convinced us to do as many boat charters as possible over the summer and enjoy the island beauties from the sea. In doing so, we also got to avoid the crowds of the shores and experiment a new feeling of freedom.  
DAY CHARTER WESTERN ROUTE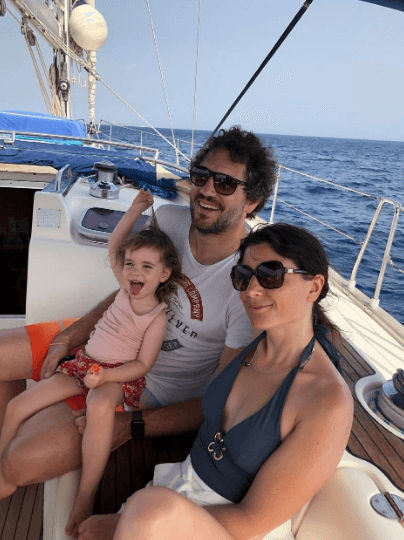 A classic  exclusive day charter in Malta starts at 9-10am and finishes at 5-6pm.  It starts and finishes in one of the Marinas nearby La Valletta: Tax'biex or in the Three Cities.  
For our first exclusive day charter in Malta, we booked a 45ft sailing yacht. The idea was to sail around Comino island and see the famous Blue Lagoon. Crystal clear waters with a small pontoon leading to the islands' hike trails. A tiny beach but breathtaking views of transparent water between Comino and Cominetto islet.
Well, except we just passed by the Blue Lagoon but never got to it on that day. It was already noon when we reached and the lagoon was crowded with ferry boats, small powerboats, larger yachts and the large crowd just made us feel like passing on the experience. This was unfortunately the reality if you want to visit this Maltese hot spot during high season, arrive at dawn or pass. However, the captain and owner of the yacht was extremely friendly, and took us to Santa Maria Caves, a mooring where we can literally swim under the small island of Comino.
Equipped with your fins and masks, you can reach the cave within  minutes (slaloming between the jellyfishes) and  penetrate its long hall until complete darkness. This is only one of the many caves of the Maltese Islands… You can visit them swimming or as I prefer, on a stand up paddle.
As planned in our day charter plan, the crew helped a delicious Maltese platter with creative dips mixing mint and basil, olives and sun-dried tomatoes. This was only a starter before the mains which were far from light but delicious! The captain used to be a cook in top restaurants in Scandinavia but did not forget its Maltese traditional roots.
The day continued around Comino island, passing along side Gozo. A single day at sea is not allowing enough time to stop in Gozo, unless if this is the only stop. The return passes by the long Northen beaches, St Paul's bay and its Aquarium, Sliema, St Julians' and finally La Valletta.
For a boat charter and visit of Gozo island, 2 or 3 days are needed.
The one day exclusive boat charter is a must-do for a first feel of the authentic soul of Malta.
DAY CHARTER EASTERN ROUTE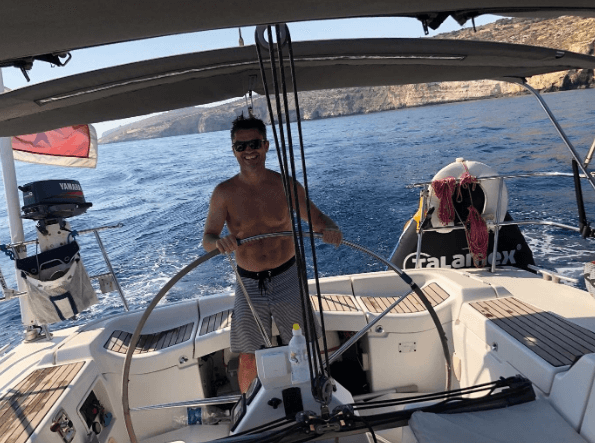 In August,  we met with the owner of the charter company Malta Sailing Experiences. He personally came to our house to collect our deposit for the next day charter on its 47ft yacht. 
Pat is the type of person you feel immediately comfortable with. Not only he accepts easily a glass of wine (he is a sailor after all) but he can talk openly about expat life, boats and life at sea. We shared our dream to become yacht owners, and also our fear of the associated costs. Indeed, a boat maintenance varies between 15-20% of the boat value every year! 
That day, we reckon is when we removed the breaks and decided to fly with our project of buying a boat. Pat and his wife Pia have been a wonderful advisors and remain dear friends.
The next day at sea was a memorable experience for all of us. Especially for our friend Frederic who was visiting us from Dubai and was just extending his cruising holidays after a super yacht holiday experience in France.
With a light Westerly wind, we opted for the Eastern road, which would take us to the south past Marsaxlokk, St Thomas, Pretty Bay (which is nothing but Pretty – actually the arrival for container ships), to the majestic Blue Grotto. After only one hour at sailing south, we got to jump from the boat: there was at about 100m distance a small pod of dolphins calmly swimming, there were clearly 2 adults and a younger one between them.
'Pat stop here please!' There was some action on Alegra. We grabbed the SUPs (stand up paddle board ), launched them in the sea and paddled hard to get closer from a dolphin pod. Our first encounter with dolphins in Malta! Unfortunately, we got to learn that this specific group was not interested in us. After paddling in their direction for a while, we could only see them taking some distance, so we let them move away and decided to go for a swim instead.
As we were near two nice bays, we decided to take break in the biggest bay of Il-Hofriet which always offers a great anchoring. The water temperature was warm and very clear, perfect to play with our toddler.
Quick lunch done, we pursued our sailing day South, taking turns at the helm under the guidance of our captain. It was the time to  relax on the deck.
Reaching Blue Grotto, we could paddle some more to visit the high and lower arches of the caves. There are always lots of tourists around as this is the only spot accessible on the long South Cliff coast. People are coming from a nearby beach and also, it is often a stopping point of most of the day charter operators.
What was to be a great boat charter day for us was less than one for the poor Pat. Trying to film our paddle boarding exploration of Blue Grotto, he lost control of his drone, who made a dive to rest at sea by 40m depth.Lesson learnt, Blue Grotto is not allowed for drone flying, any drone would have been disconnected and within 30 seconds you have to recall your drone on board or lose it. (Note that since 2020, a drone license is necessary to fly in Malta. A drone license can be easily obtained applying to Transport Malta.)
A PRIVILEGE TOUR IN THE AUTHENTIC MALTA
Pat and his wife Pia, also introduced us to the joy of yacht evening tours in La Valletta and the 3 cities.
Departure at 5 or 6pm. A sunset sail towards the West with drinks make wonders. Return with the festive lights of the capitals. We were still gliding smoothly until late in the Three cities harbours, along the waterfronts where groups of Maltese are singing-out-loud make a long-lasting impression. July and August is the feast season and crowds are gathering on the quays while groups are celebrating at the restaurants' terraces waiting for the fireworks. An evening tour is a way to experience the festivities in a bubble of comfort.
A CONCENTRATION OF  SCENIC VIEWS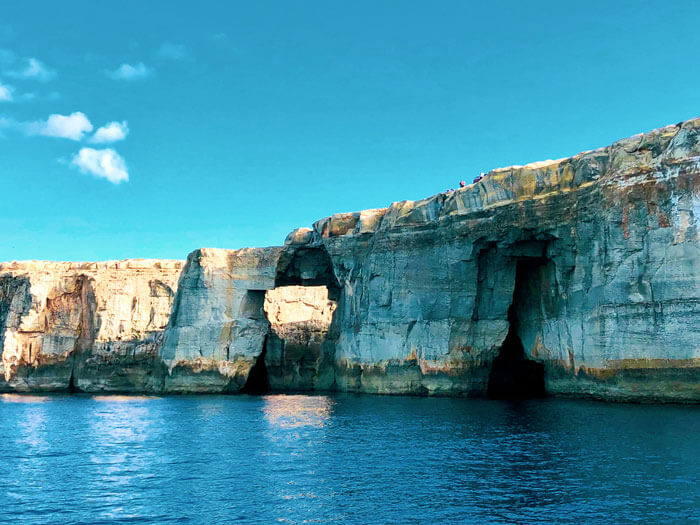 Malta offers many day charters' opportunities which make the island an ideal destination to start sailing or casually relax with the family. In Gozo island, the Azure window disappeared about a decade ago collapsing in the sea, but still remains one interesting large arch. This is only one of the secrets held by Gozo.
Having the opportunity to sail all year round with easy days out was the best thing which happened to us as we were moved along our dream and bought our first yacht.
 We have gotten to learn and enjoy Malta coasts and beaches in more intimate ways than you would typically find. When Europe came to a standstill caused by the lockdown in 2o20, we got the Blue Lagoon to ourselves. We were fortunate to have this experience in such difficult and trying times. Being out at sea and in nature has a way of bringing harmony to us, this is also a story for another article.
Before we set sails to Sicily, Pat told us:  'You'll have to be sailing yourself in other places to understand why Malta is so special'. A year later, after our 3rd trip to Sicily, we understand what he meant.
Malta offers a concentration of easy moorings accessible in just a few hours which is ideal for yacht charter holidays, but also a variety of landscapes and scenic views accessible from the sea. This is what makes it unique and a must-see in the Mediterranean Sea.