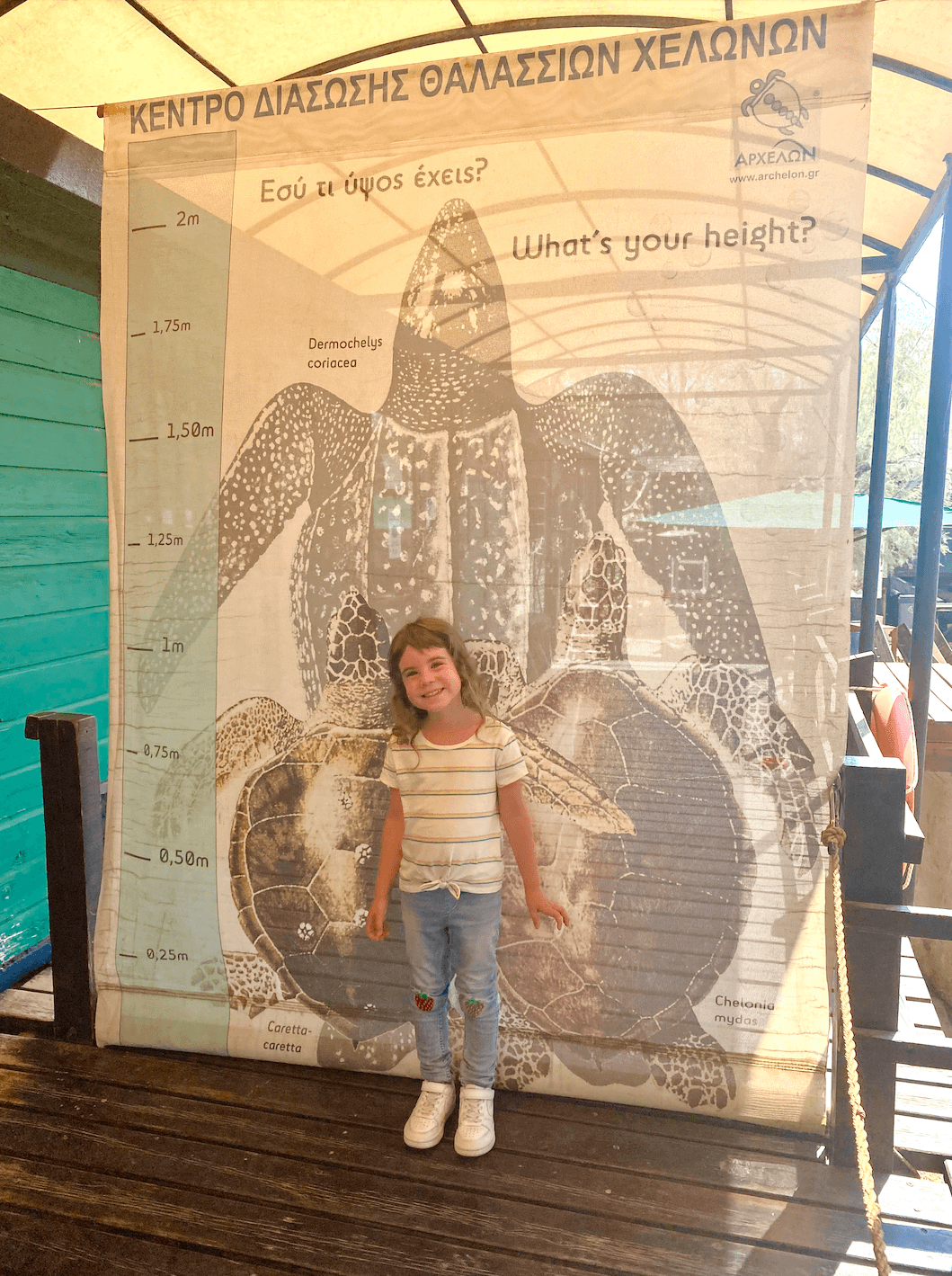 21 Sep

Would you rescue sea turtles in Greece?

Are you  looking for an unforgettable family experience in Greece?
If you have a heart for ocean protection, you will love visiting ARCHELON, the only Sea Turtle Rescue Center of the country. It is a great family visit and if you have more time, you can join even apply to volunteer!
From Athens' center, it is a short a tram ride or taxi ride to reach Archelon located in Glyfada, straight on the sea besides the public beach. The visit is free as the center works on the basis of free donations.
There you will receive a full tour of the sea turtles hospital and see which technics are used by the carers to feed and treat the little patients. It is a good introduction before joining a project for young children who will have a direct experience of green turtles and loggerhead turtles observing them in their big rehabilitation bassins. The volunteer explain how the turtles are encouraged to swim again and helped with weights to balance their body weight and get them to find again their stability in the water.
The children will also observe the care givers feeding them by hand as, unfortunately, a lot of them are too weak to feed themselves. This is a hospital and silence is required here (sshh…)
We saw a lot of head injuries, eyes can often be damaged, or flippers cut or even removed… They can be released back into the sea when they have fully recovered.
We decided to adopt Ariel, the only Green Turtle here at that time. We will support her until she gets back into the big blue sea.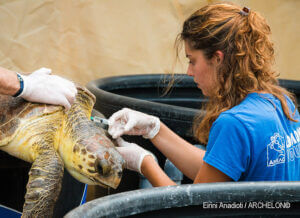 WHAT CAUSES INJURIES OF THE SEA TURTLES?
It is estimated that about 99% of injuries are caused by human activities (fishnets or ghost nets, hooks, plastic parts or bags ingestion, etc).
At the rescue center, there is actually a wall displaying all hooks and plastics swallowed by turtles rescued in the previous years.
YOU CAN JOIN A FIELD PROJECT IN GREECE
Joining a volunteering plan, you will be monitoring and protecting sea turtles, their nests and hatchlings on the beaches. Also you will be rescuing injured/ sick sea turtles and treating them at the Rescue Centre.
Anyone above 18 years can join the project. English is the main language.

Each year, volunteers from various countries dedicate a few weeks or a few months to heal the  60 to 70 sea turtles reaching the center.
However Covid-crisis hit the center's activity as 80% of volunteers had to cancel their travel, leaving the Center with another challenge to stay afloat.
Glyfada host the main rescue center but more are located in other regions like the Peloponnese.
A WORDSCHOOLING PROJECT : SAVE SEA TURTLES
In summer, families with children (8 -18) can directly take part in ARCHELON Field Projects by helping a team of volunteers in the Peloponnese (Lakino Bay Koroni) or Crete (Rethymno, Chania).
All dates (from June to September) and duties available on line.
Insight for worldschoolers and travelling families:
Families commit to a project for 3 days to 1 week and for a minimal participation become part of the volunteer team but also annual Archelon supporter and receive a training ( €50/ parent and €30/child).
Participation can be extended for 1 more week , if in accordance to the needs of the project.
It is highly recommended that families participating in the projects have a car, as it is for instance absolutely necessary in the Crete-Chania project.
Families participate in certain tasks and follow an independent schedule agreed upon with the Field Leader depending on the age of their children. They will be included in the weekly project schedule by the Field leader, after having discussed how much time they can offer daily. Usually, family volunteers help the full-time ARCHELON volunteers in certain activities during the day, such as protecting nests, beach cleaning, providing information to the public, shading nests, participating in activities for children, etc.
DID YOU KNOW…
2020 was the year of the loggerhead nesting! Archelon recorded 7.600 nests on 73.8 km of nesting beaches that were surveyed daily in Zakynthos, Kyparissia bay, Crete and southern Peloponnese.
WHAT TO DO IF I FIND A SICK/ INJURED SEA TURTLE?
If you are sailing in Greece, chances are you may find an injured turtle. It happened to the crew of Sailing Heureka in Keffalinia mid-July 2021 and they reacted like pros saving a large sea turtle with their dinghy.
If you find one on the beach or at sea here are some instructions to keep in mind:
Call ARCHELON-Rescue Network as soon as possible

Move the turtle to a SAFE PLACE far away from people and noise.

Turtles should always be picked up the shell, and never by the fins or the head.

If the turtle is large and requires two people to move it, one should take hold of the shell just behind the turtle's neck and the other at the part of the shell close to the tail.

Handle the turtle carefully and gently, being careful that their fins do not fold, bend or twist backwards or underneath the body. Make sure that the turtle is in a safe and restricted area, away from wind and drafts.
During the summer months, the injured area should be covered with a damp cloth

The temperature in the area where the turtle is kept should not fall below 15°C.

It isn't necessary for the turtle to be kept in water. However, when the turtle has a head injury or is exhausted, it SHOULD NOT BE KEPT IN WATER AT ALL because it may choke or drown.

If the turtle is tangled up in a net or lines, they should be carefully removed.

UNDER NO CIRCUMSTANCES SHOULD AN ATTEMPT BE MADE TO PULL OUT A HOOK OR LINE PROTRUDING FROM THE MOUTH OR TAIL.

Check all the flipper for possible identification tags and note the number if you find one

ARCHELON will send you a Turtle Incident Report
If you are unsure what to do, you can always call the coast guards. They will themselves coordinate with Archelon center who can organize the logistics to carry the sea turtle to one of its centres.
 Whether you chose to adopt an injured sea turtle or to volunteer, we bet you will make unforgettable memories of your stay in Greece.
For emergencies and infos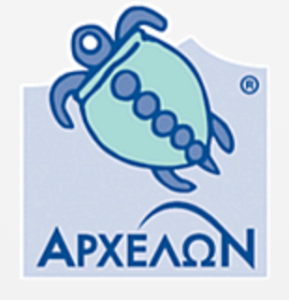 ARCHELON Rescue Network T: +30 210 8944 444, +30 6941 511 511
Rescue Centre address  in Glyfada – 3rd Marina of Glyfada, behind the TRAM stop "Paleo Dimarhio".