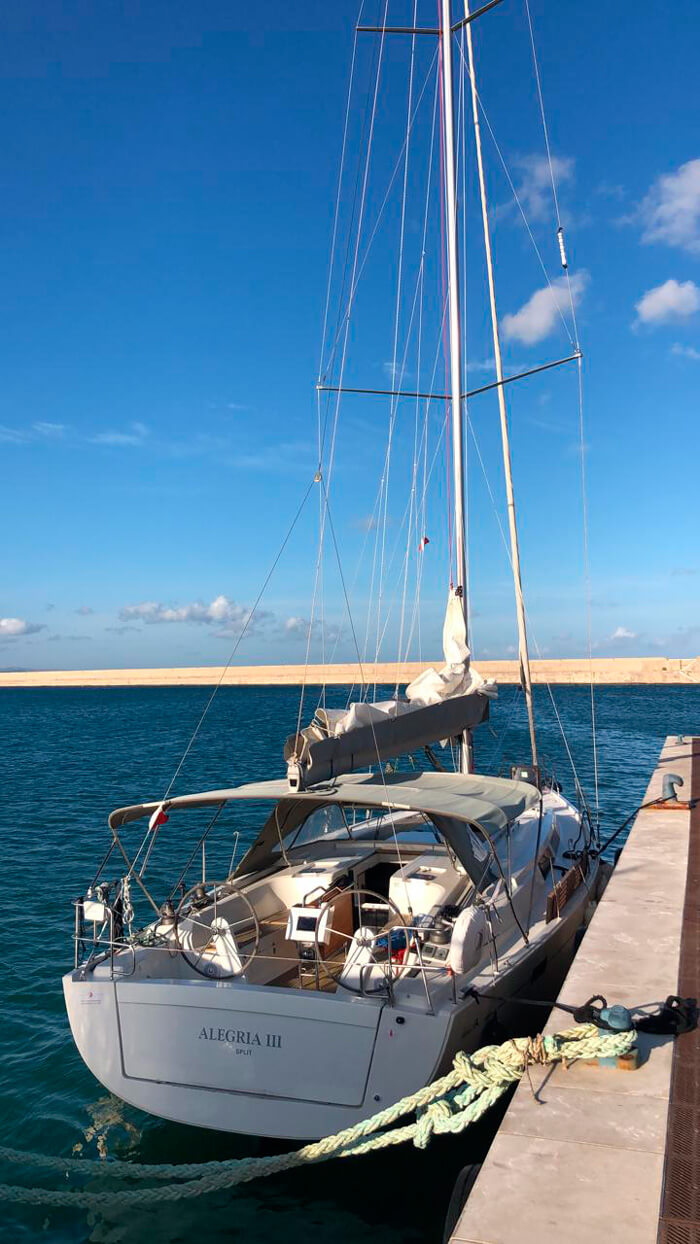 15 Mar

Find a boat in Croatia : our story and advice

It was the end of the summer season and we were doing sailboats' visits in Malta dreaming of our yacht but simply could not find anything right for us. Left with no other option, we considered the foreign market. But as newbies the simple questions 'Where can we find a good boat?' and "Where can we find the best deal?' still had to be answered.
Going through the main broker sites, we identified the Turkish, Greek and Croatian boat markets as the most dynamic. We quickly ruled out Turkey, which was further out geographically, and found several matching boat results in Croatia.
A Ryanair plane ticket for Split was booked and the visits could start. Croatia is welcoming millions USD$ of boat assets: each port has hundreds of boats managed by large charter companies. The sizes of the fleet are impressing.
So, one can imagine that landing there was exciting as the start of a treasure hunt except, there were many surprises waiting. The market opportunities were real, but a systematic skimming work had to be done in order to filter the results.
It is important to stress out that websites' ads show pictures probably dating from the start of the boats' chartering in Croatia, we would say 5 years old in average. In the meantime, the boats have aged and suffered charter operations. The maintenance is most of the time not handled with care and you won't like what you'll see: it may be just look like a very different boat. This is one thumb down for the professionalism of the brokers in Croatia.
Our advice number 1
Ensure your selection is not to narrow and that you have enough boats to visit as you'll go through many disappointments. Take many local contacts to help you skim the market and enlarge your matching options while on site.
Our selection took Cyril to 3 different Marinas: Dubrovnik, Zadar and Split. He initially planned 2/3 days on his first visit to check the boats on our short-list. As the boats on the list weren't right, he finally stayed 5 days to hunt for the good deal.
The hard work paid off as he found Alegria III, a beautiful 9-years old Hanse Yacht 445 matching 95% of our criteria and most importantly in good condition after some light charter operations.
Our advice number 2
Don't book an express trip. Avoid some stress and just book a whole week to navigate between the different marinas and speak with the owners/ charter companies. Push to make an extended sea trial of the boat you like. The breakdown may not appear during the first hour. Make sure you use all the systems, play around with the autopilot, etc.
If you are successful with your first trip, and found your boat, you'll have to plan for the boat survey ASAP to seize the opportunity. This means being flexible for a second trip in a relatively short time.
Well, all this is theory as life is busy. Unfortunately, Cyril's busy schedule kept him in Malta longer and he missed the survey by a week… He regretted it as he could not ask questions on the potential defects and the surveyor actually missed an issue with the boat's autopilot.
The hard lesson was to be learned on the very morning of the departure with the sailboat to Malta. Cyril noticed a fault with the Raymarine autopilot after he left the Marina at dawn. He had to return to the port for troubleshooting. A missed departure, which would have consequences on their all course back to Malta…
Our advice number 3
If you want an exhaustive and qualitative survey, never EVER let the survey happening without you. Ask questions, look into everything with the Surveyor.
Once you receive the final survey report, you'll be able to carry out the appropriate negotiations which will if you pass, take you to the bill of sale and down payment level. Congratulations!
Now, the deal is done, you are ready to prepare your yacht and sail her back home.
However, f
rom the arrival at the Airport until his arrival in Malta, Cyril faced all kind of troubles.
It started with a swallowed credit card which left him with not enough cash to pay for boat equipment. The disaster was only avoided thanks to an online bank Digital payment. The boat needed an AIS and an EPIRB to be chartered to Malta and a few last-minute repairs. In the end, he could pay for all not without breaking a sweat.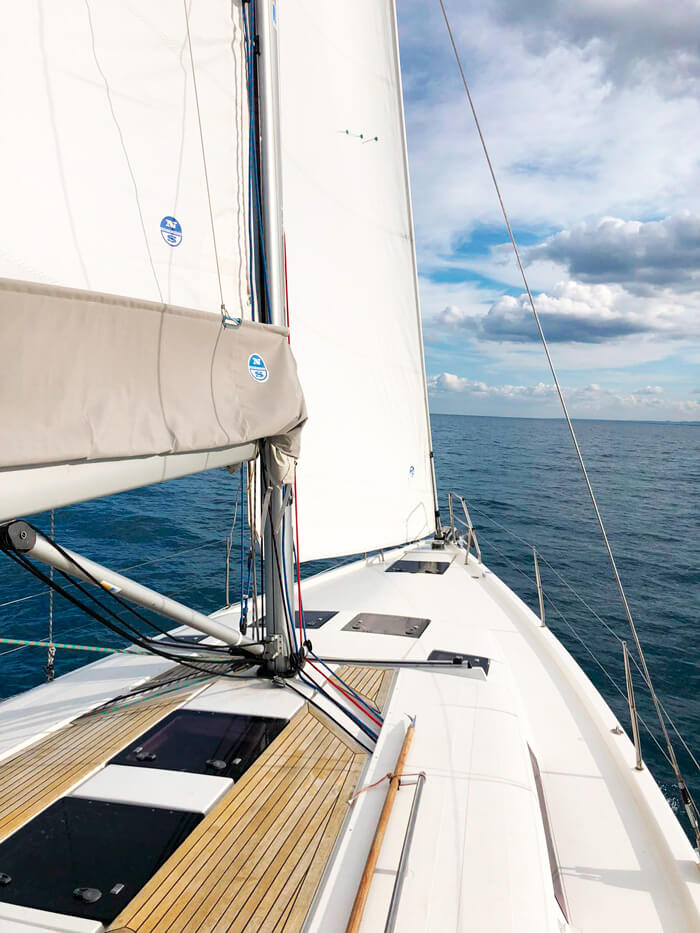 Our advice number 4
Simple basic traveller recommendation, make sure you have provisioned more cash than for your living expense and basic shopping list and equipment. You'll most certainly have to deal with last-minute unplanned boat surprises…. And we are never safe from Banks' bad jokes.
Note that the good timing to buy a boat after the high season and make a good bargain may not be the right time to sail. If it is the end of autumn or beginning of winter it may well mean stormy weather, which is not sparing the Adriatic Sea nor the south Mediterranean Sea.
Cyril had planned the journey on a nice weather window of light wind. It was supposed to be an easy week. But this was the end of November and for his first long passage, obviously forecast changed!
Cyril had the best day taking the helm of Alegria III smiling and proud as a new yacht owner can be. But this was not for long, he had one of the worse nights of his life just after. Cyril and the Croatian skipper sailed South for 2 days with a strong head wind, and were crossing squalls, a bad sea. After hours of seriously seasickness, Cyril was contemplating his options to resell the yacht as quick as possible. The terrible questioning 'Why did I buy a boat?' was present in his mind. Fortunately for him, the Croatian skipper was booked until Bari and held his guts superbly.
Our advice number 5
If you leave Croatia in Autumn or winter, pack with sea sickness patches /gums, vitamins, energy bars etc. Choose cautiously a co-skipper who will be your life support system in case of rough seas. And if you are already tired from your previous travel and boat preparations, you may like an additional night before setting sails.
In the end, this second trip to recover Alegria III in Croatia, prepare her for the crossing and sail her back to Malta lasted 10 days. In the plan set-up, Cyril was optimistically planned 5 days, certainly under the pressure of work deadlines. But once the first delay kicked-in, adjournments just kept on accumulating all along the expedition.
At the last port on the Croatian cost, the customs fees had to be paid before crossing to Bari. Unfortunately, due to the false departure on Day 1 (damn survey and autopilot!), the customs office had just closed when the boat arrived. The crew had to wait there until the next morning.
Later, on the Italian side, a storm grounded them two additional days at Crotone before they could leave the port safely again. Cyril had to juggle with 3 different skippers during that time.
Alegria III reached Malta at 2am after a week at sea.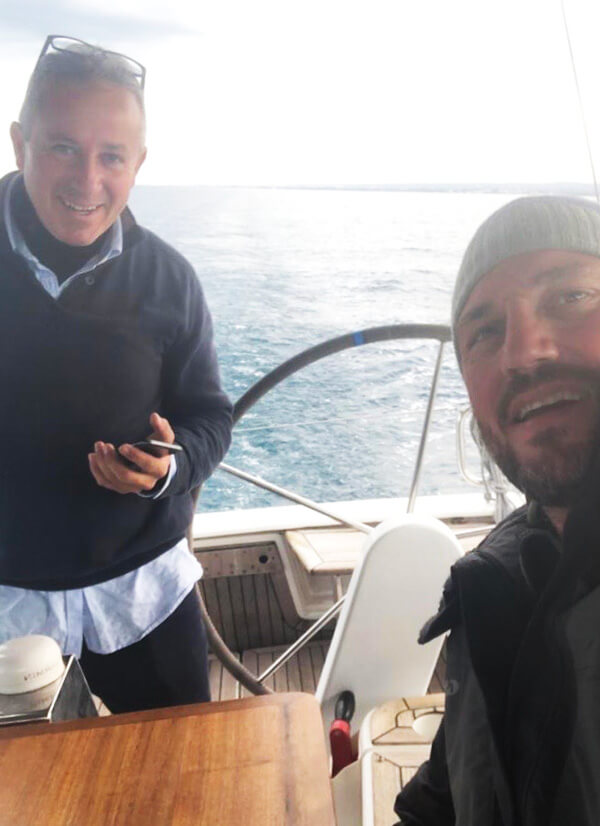 Our advice number 6
Wherever starts or ends your trip, make sure you double up your initial estimated sailing time. It is a security for the family and possibly the work you leave behind.
Good luck in your treasure hunt and fair winds!