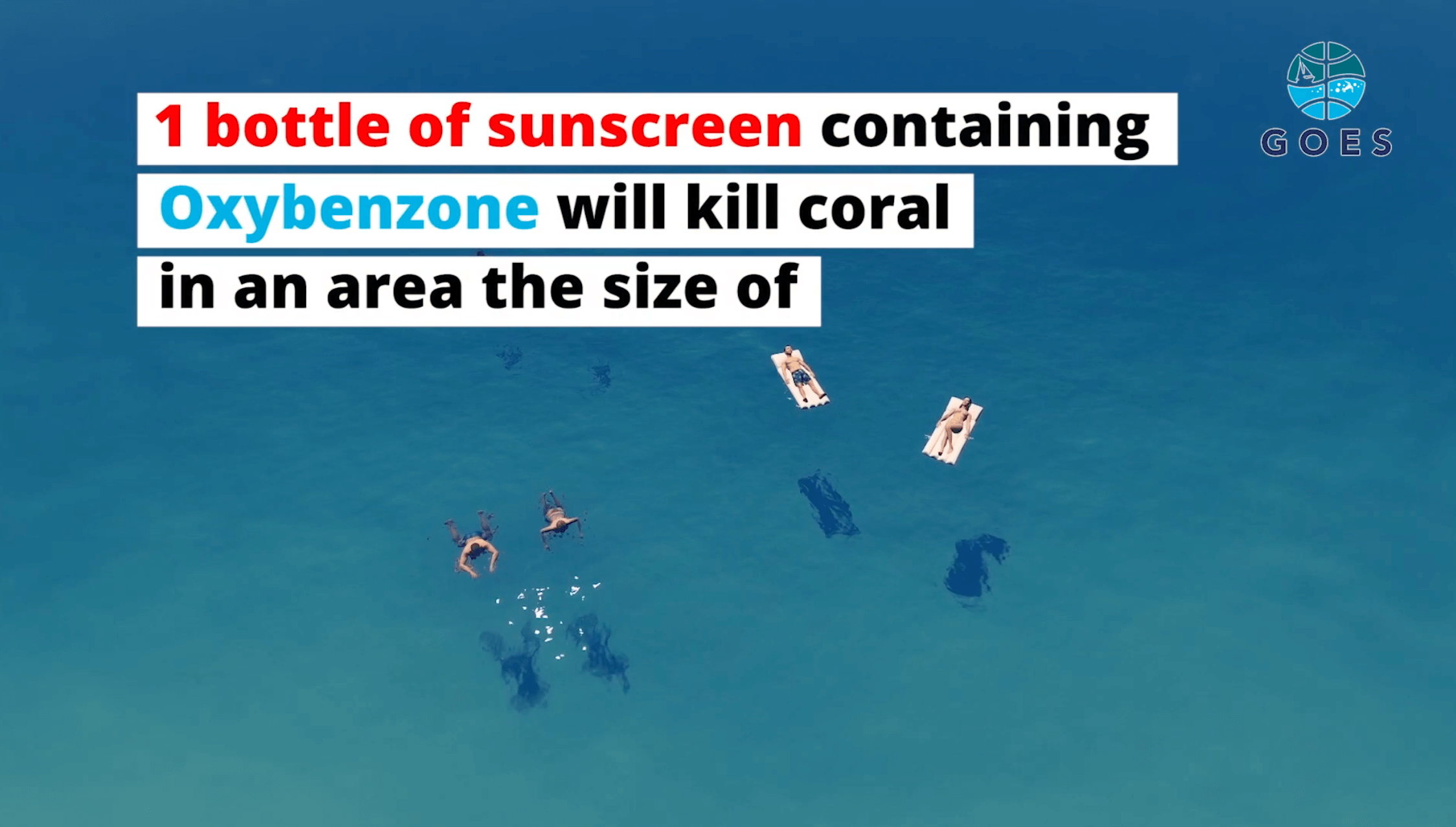 16 Mar

Is your sunscreen toxic for you and the ocean?
Identify sunscreen and personal care products toxic ingredients
Sunscreen and care products are intended to be applied to the body every day, for a healthy and tanned lifetime. They are supposed to be safe for us and the planet.
The companies that make and sell the ingredients
and products test them thoroughly for potential
short-term effects…
And we would also assume that on the verge of a 6th mass extinction, they also make sure they are safe for the ocean, right?
Well, you may be disappointed especially if you consume US products which tolerate limits 3 to 10 times higher than the European Commission limits on organic UV filters.
So what are the toxic ingredients in your sunscreen?
Here is a list of the toxic ingredients found in over 4000 sunscreens and care products.
Avoid them not only for the health of the environment, but for your own health and wellbeing, especially the health of children.
Harmful substances on the "HEL list:
Oxybenzone
Octinoxate
Octocrylene
Homosalate
4-methylbenzylidene camphor
PABA
Parabens
Triclosan
Any nanoparticles or "nano-sized" zinc or titanium
(if it doesn't explicitly say "micro-sized" or "non-nano", it's probably nano-sized)
Any form of microplastic, such as "exfoliating beads"
Sunscreen products
Friendly reminder: All the chemicals are toxic, and many are endocrine disrupters, cause allergic reactions, or are carcinogenic.
Choose well, protect yourself and the ocean
Ingredients contained in most sunscreens' brands (including the one sold in your local pharmacy) have been linked to hormone disruption by numerous studies.
I personally inquired at numerous pharmacies about a safe sunscreen for my kid and none was mentioned once the levels and endocrine-disrupting effects from homosalate, avobenzone and oxybenzone present in their products.
But this may not be the worse.
A drop of these toxic chemicals can contaminate the volume of an Olympic pool, or even several Olympic pools.
Well guess what the pharmacist said this time? Nothing… not a clue.
Apart from marine biologists and scientific teams, who cares about planktons?
Well, all of us. The destruction of the phytoplankton and zooplankton is not only impacting the ocean ecosystem, but also the oxygen we breathe and all that we know.
If we lose the ocean ecosystem then nothing else will matter because there will be mass extinction of animals, plants as well as people.
If they had any ethic, the marketing teams of the glamorous Sun Bum and Hawaiian Tropic, would rebrand themselves 'Octocrylene Sun' and 'Oxybenzone Tropic'.
Don't trust sunscreens' label
I know the sunscreens brands write their ingredients in small prints, putting you off reading the list while the papaya and coco extracts presented on the front plastic packaging  intend to give an organic shine to their products …
But as from now,  you will never pass by them without reminding my 'Oxybenzone Tropic' branding.
Even so-called greener brands use 'reef friendly' labels to position themselves on the organic segment… Sadly, the term "reef friendly" is not regulated, so you can't always trust the simple description.
Here is this article take-away and it is simple:
Only two ingredients could be qualified as safe in mineral sunblocks: zinc oxide and titanium dioxide…. as long as they are non-nano (larger than 100 nanometers). Nano zinc oxide can be ingested by marine animals including corals and cause internal damage. And when washed off into the ocean they can react with UV rays to generate hydrogen peroxide, a toxic to phytoplankton.

Everyone has the power to effect change, just by making the right decisions and spread the word.
SOURCES :