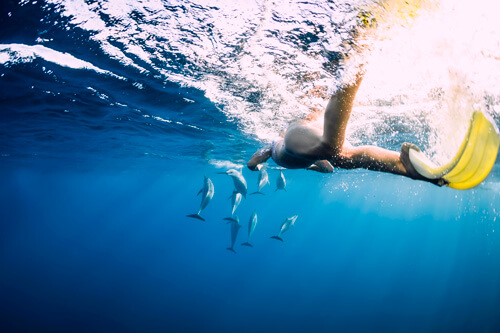 09 Apr

MEET WITH DOLPHINS IN MALTA AND THE MED SEA
To us, the best travel memories are often the encounters with wildlife.
In Malta and the Mediterranean Sea where we are sailing, the most impressive encounters still are with the dolphins.
Travelling at sea and practicing water sports, we are lucky to meet different species of dolphins and whales, turtles, seahorses, or more exotically penguins or lion seals. Everywhere the marine species are suffering from the devastating impacts of human activity but there are solutions to preserve them and stop the decline. Firstly be aware that you do not need to go to a pool with dolphins show to see them, you just need time at sea.
DOLPHINS' ENCOUNTERS
MEDITERRANEAN SEA DOLPHINS' FACTS
DOLPHINS CONSERVATION
OBSERVE DOLPHINS IN THE WILD
DOLPHINS' ENCOUNTERS
Though we have the chance to cross their road often, we always feel the encounters are too short. Dolphins love surfing and when there is no waves, a sport called 'bow riding', they basically hear your sailboat in the distance and come to play in the wave created by the forward motion of the vessel.
They stay variable time. We love when they are bringing their cub to play. Our small daughter can't get enough of repeating "Baby here! And here!' This is part of the magic of this lifestyle, we travel slow and at marine life speed… no actually slower, Alegria III cruise speed is only 5 to 7 knots.
If you see us on the boat when a pod shows up, it is always all joy and excitement. The experience never gets old!
Today our dream would be one day to cross a large pod of hundreds and swim with them. Until now, the larger pod we met was about 15 dolphins in Sicilian waters.
The Mediterranean Sea is rich with endemic and other flagship species amongst which are eight species of cetaceans. We more frequently spot common bottlenose dolphins (Tursiops truncatus) and striped dolphins.
When we lived in the Gulf, we spotted other dolphins called Indian Ocean humpback and in Indo-Pacific bottlenose dolphin which shape is different and fin darker, very distinctive.
MEDITERRANEAN SEA DOLPHINS' FACTS
In Maltese waters, the total population of bottlenose ranged in 2014 from 79 to 224 individuals. In Sicily in the Strait of Sicily less than 100 individuals could be identified.
The estimate was based on photo identification of marked individual dolphins.
The maximum number observed in Maltese pods range between 10 and 40, with a median of 12 individuals. However, we met smaller groups of 3 to 6 on several occasions.
Last June, we sadly observed a dead dolphin at the entrance of Grand Harbour Marina, on La Valletta break waters. We reported his picture to the Malta University experts who do the observations. To us, the stripped wound on his body flesh did not make any doubt: he was taken in a net and drowned.
Fishing lines, fishhooks, and discarded netting are one of the bigger threats to dolphins. Even if the animal manages to free itself, the resulting wounds attract predators and leave them vulnerable to infection. Ghost nets are nowadays challenge and we support the actions environmental organizations. You can become an ocean activist yourself with Big Blue Ocean Cleanup and start cleaning up the seas.
DOLPHINS CONSERVATION
A Conservation Plan for the loggerhead turtle and the bottlenose dolphin in Maltese waters is set to address the pressures from Commercial Maritime Traffic, tourism and fishery activity (marine litter and underwater noise).
On a global scale, bottlenose dolphins are the most common captive cetaceans. And we are touched by their vulnerability and exploitation in the water parks. We would like everyone to be informed that the shows are simply animal cruelty and that the picture is not worth it. The average life expectancy in these prisons is 2 years, or saying it otherwise it is a slow death.
For the little story, Flipper, the famous dolphin from the American television movie was not a happy dolphin. She was a captured, trained dolphin who was depressed. His trainer Richard O' Barry never forgave himself for his death that he qualifies of suicide and worked the rest of his life to spread awareness. In total there were 7 dolphins starring as Flipper.
OBSERVE DOLPHINS IN THE WILD
So, if you are thinking of a fun day of dolphins' or cetaceans' discovery, we would rather recommend boat charters offering experience of close contact with the sea, leading up to the actual encounters with sea mammals and other sea creatures. These are sea lifewatching tours. They don't make false promise of guaranteed animals' spotting, but you'll have the certitude that no animal was harmed in the experience and that you will have a relaxed day at sea with a nice swim.
If you are planning to visit Malta, you can check the eco-friendly boat tours of EcoMarine Malta. The crystal water swim plus the naturalistic explanations from biologists on board.
Finally, the best being sailing your own boat and spend extensive time at sea to spot the wildlife, we would recommend taking your Day Skipper course. If you want to go in Malta, the pros are here Pro Sailing Malta.
Going further : The Dolphin Project dedicated to the welfare and protection of dolphins worldwide.