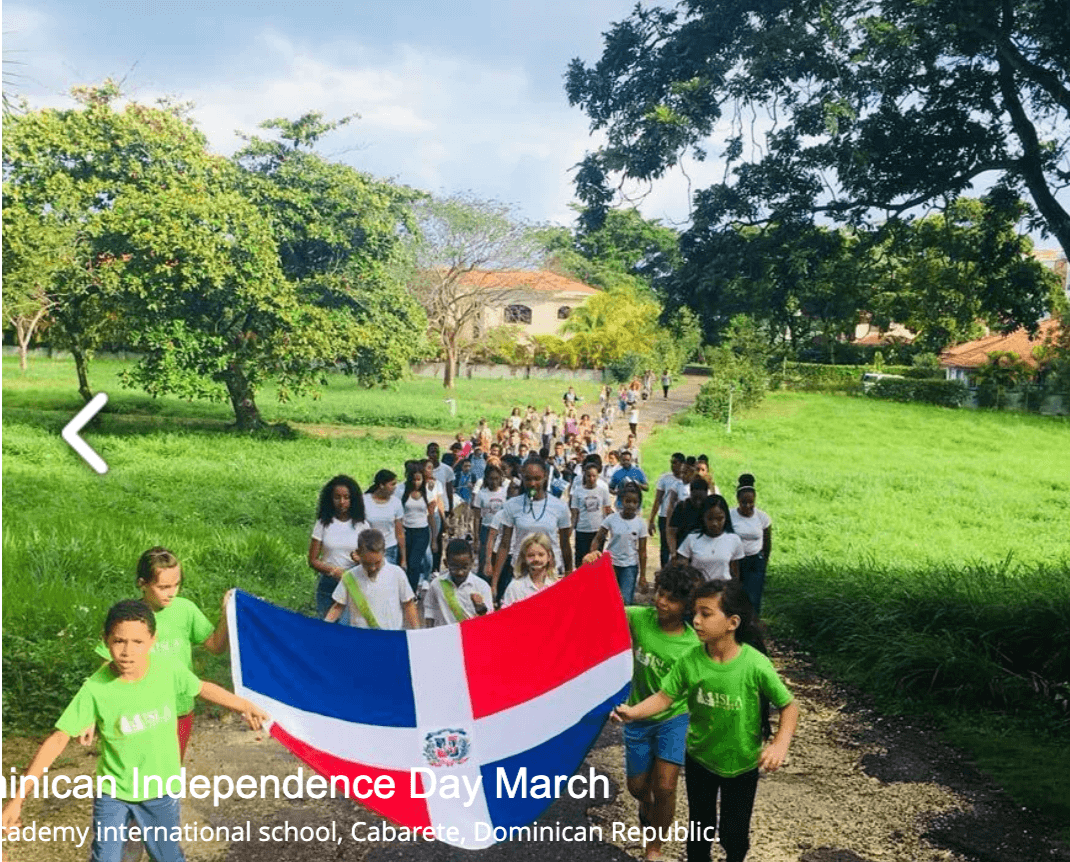 14 Mar

World schooling in 2022 – Focus on the Dominican Republic
CHOOSING YOUR NEXT FAMILY DESTINATION
Many travelling families are wondering which country they'll find a great school for their successful post-pandemic world schooling experience.
In summer 2021, I studied Carribean, Central and Latin America's index, political situation and sanitary policies to shortlist the best countries to do so. Priority was given on flexible visa rules and international education options. The top 3 countries came up as: Costa Rica, Dominican Republic and Mexico.
Finally, for our family I ranked the options as follows:  Dominican Republic 1st, Mexico came 2nd and Costa Rica only 3rd.
The safety level, a good health system in the big towns, the moderated cost of living, and pretty large choice of schools make DR a really good target for a family travel experience (I didn't mention the surfing aspect, but it was in the first equation…)
If we want to give an objective retrospective on world schooling during the pandemic, the new working modalities gave wings to many but have also been draining on a personal level. Lack of family support and division of the communities over sanitary concerns touched everyone whatsoever amazing were the travels, numbers of countries touched and family adventures.
The reality of the family travel is about long researches and planning, constant adaptation to new laws, coping with unpredictable life events, accidents and finally re-budgeting… the stress can be real!
As much as we think of world schooling, it can be literally anything, some families go for 100% homeschooling, distant learning (including all different programs options), or any of the previous choice blended with periods of time in local schools… Each family follows its own barometer.
I will present here the information I collected on the Dominican Republic educational options for foreigners, with some personal feedbacks on this Carribean life.
FOCUS ON THE DOMINICAN REPUBLIC INTERNATIONAL EDUCATION
Now here are the valuable pieces of advice I can share with you looking into your next short term or long term destination with the kids.
You can consider attending a school in the Dominican Republic for stays of minimum 4-6 weeks.
There are a few non formal schools with different programs and languages. Spanish is the official language of DR but many private schools offer it as a second language.
For a full school year, there will be  more choices as it opens up the doors several international schools with Dominican and foreign countries accreditation.
 However if you are looking for a full year, ahead planning is mandatory as International schools may have waiting list or difficult registration process (registration 6-9 months before start, files and certificates from previous schools).
GREENWOOD ACADEMY
For a play-based inclusive education, we recommend Greenwood Holistic Learning Center or Greenwood Academy.
It is based in Sosua – La Mulata, 10km west of Cabarete (Puerto Plata province).
(Join them on Facebook – many businesses work with FaceBook in DR, your house hunt will also go there).
Greenwood Academy is mainly following American based curriculum, but the teachers can also is accompany
kids following an English curriculum too and help with exams if needed. Highly adaptable team, family oriented and truly a nourishing place for the kids.
Cost is low approx 200USD monthly (check price with the Director).
Registration possible on a monthly basis.

The school is operated in a villa to give a family feel and  an emphasis on nature : kids feed the horses and can ride them. A hen is always around and apapaya tree grows in the garden. Kids can do at times some reading while cuddling a dog.
Children with special needs are welcome and can receive a tailored education while being integrated with their group class age.
It is the cheaper option and the most open for English speakers transiting in the country for a short period of time. Spanish is taught one hour a day giving a great basis. French is also an option (additional class).
THE HIVE
The Hive based is offering 6 weeks world schooling project in Cabrera (North Coast about 1:30 East of Cabarete).
Not an academically school but an American based education in English with including Spanish classes.
Note that the small town of Cabrera can be remote depending on what you are looking for in terms of nightlife or extra classes for the kids.
Most families live in the same condominiums with all services included and the kids enjoy a great community (the Worlschoolers group in Cabrera facebook group can help you with infos).
On the down side there is no much mix with the local and international pupils which in my personal opinion is limiting the local experience. It can be a good 6 weeks break for world schoolers open for a new experience.
Isla Academy – Cabarete
Motto : Learn2Love2Learn – Green School inspired – Permaculture – Ecology
ISLA is located in the heart of a little gated community called Playa Laguna (2km away from Sosua). It offers extra classes like yoga or dance and intends to bring the Love of Learning to children with a great emphasis on Environmental projects.
We love its 'green school' spirit and facilities. It is a reworked villa with a large pool to which outdoors wooden bungalows were added for the primary classes. There is a small library and students take their lunch under the school veranda overlooking the swimming pool.
American-based curriculum and clearly Montessori inspired (certification accessible in partnership through an American school). 
Cost 6400USD to 7300USD yearly with an extra 1350USD for an American Accreditation.
Payment in full or per term, possibility to waive registrations fees (see directly on the school website).
Important: Strict policy, families have to commit for a duration of minimum a semester.
The European School DR – ESD
This is a Primary school based Cabarete East (5mn from down town) in an area awaiting for a new development by the beach. It is a French and Spanish curriculum. The directors are Franco-Portugese passionate parents who foster the love for reading in French through their youtube channel 'Lectures au coeur des Caraïbes'.
Half days available for either each program : Spanish 8:30 to 11:30 or French 13:00 -16:00 or a combination of both (full day). FLE classes accessible twice a week (French as Foreign language).
The school works in partnership with The CNED ( French's National distant learning education) – if y0u want the certification, you will pay for it separately on the top of the school fees.
Different sports activities are offered on-site as extra curricular (baseball, football club)
The facilities are minimalist following Dominican standards and recess sometimes take place on the beach just behind the school. A lunch service is offered on-site in the school main building.
Fees on their website. Approx 400USD/ monthly for full day. 
Tip: Register early to waive registration fees. School accessible at any moment of time in the year.
INTERNATIONAL CHOOLS ON YEARLY BASIS
Finally, if you are sure to stay a year and look for excellent education standards in Rep Dom, you can enrol with the ISS – International school of Sosua.
The cost is also one one the highest in the DR provinces (left aside the schools of Santo Domingo…) but there is a proper campus and gymnasium and top notch classes according to European standards.
The school offers a great program of activities all around the year and you'll find a strong network of Dominican and Foreign families staying long term.
Finally for the French speakers, the French High School LFI.
There are 2 schools, one in Santo Domingo or and the second in Las Terrenas are the references.
Program starts from 3 years old and is affiliated with French Curriculum ('Education Nationale').
LFI Las Terrenas hosts +20 nationalities. It is an association and is pretty inclusive for parents who want to invest their time for the school. You will pay for your membership as you register (preferably in March to ensure a seat in September).
Cost is moderate compared to other international schools and the school facilities are premium. In Las Terrenas, the development is still on-going to extend the outdoor facilities/ sports facilities. Note that the cost of LFI  is less expensive in Las Terrenas than in the capital Santo Domingo.
There is a large community of French and Canadians enrolled in Las Terrenas.
Outside of the school which closes at 1pm (earlier than most other schools which close at 3 or 4pm), you will find many extra-curricular activities in town to complete the day and take the kids out.
LIVING IN CABARETE, CABRERA OR SAMANA?
The little town of Cabarete (Puerto Plata) gained its popularity through water sports. It is full of life especially if you like having a bit of a nightlife and are practicing surfing or kitesurfing.
Cabarete vibe is where the international youth, digital nomads and business men watermen land.  The beach nightlife and international standards restaurants options are excellent compared with the bigger Puerto Plata itself. There are plenty of secured gated communities or condominiums by the beach.
The neighbour town of Sosua used to have a bad reputation for its traffics of all kinds but the touristic development radically changed the face of the municipality who now attracts massively North Americans tourists for its cheaper real estate and 12 months round beach days.
Cabrera has fewer life options, and less extra curricular activities. However this is more the most locally immersed experience you may have. I would advise you to connect directly with the facebook group of Worldschoolers of Cabrera  to get some informations if you are interested to plan your 6 weeks immersion or longer…
If you like pristine beaches and jungle feeling, you'll fall in love with the Samana province.
Samana offers great family outdoors excursions, and paradisiac beaches, falls and a proximity with Los Haitices National Park. There is a surfing spot (though not of International category) and some kitesurfing schools.
It is a more local life but just with the right amounts of foreigners to create a demand for international standards' education and a few night clubs. On the other hand you are also a bit closer from the Capital Santo Domingo for week-end trips and a different cultural immersion.
ISLA Las Terrenas
The real estate knew a boom and accommodation cost is on the rise. Securing the right property may be the challenge.
You'll be please to know that Isla Academy opened a branch in Las Terrenas.
The school is smaller than the one in Playa Laguna (Cabarete) but it costs about 400$/ month (check 2023 rates). Its location is fantastic just at the back of Playa Bonita one of the finest beach.
FAMILY TAKE AWAY ON DR
In general, the Dominican Republic is very family-oriented and safe for the kids. If you choose one of the schools listed here, your kids will most likely enjoy the beach life activities and to a certain extent dance, music, horse riding, surfing, tennis, football, jujitsu….unless they prefer baseball / softball which is the number one sport in the country.
On week-ends your family will be exploring natural parks, caves and rivers or just relax on the beach. If you are lucky to join in Feb-March, you'll be participating in the colourful carnavals.
We received mixed feedbacks on all the schools. It all depends on what are your expectations in the end. I cannot detail in one article all the pros and cons but have compiled a mental list going through my researches… if you have a doubt you are welcome to send your questions.
The slow travel and world schooling gives the opportunity to learn with different kids from a wide-range of cultures and get familiar with new languages. Families fostering freedom of movement and choice want to balance the education with their travel and family time, alternate between periods of home schooling (or even unschooling) and school-based learning.
Schools offering an open policy for drop-in during the school year and flexibility with time of registration are widely praised by the families of travellers. We are grateful for the privilege of raising children who can learn a second or third language at an early age and make friends from totally different backgrounds in a school welcoming them for limited time in the country.
We need this more than ever to build a world in Peace and focused on the real challenges of our Century.
If this article helped you in your decision-making or you would like to enrich this school directory,  please feel free to share your experience in return.
Notes:
DR school is mandatory as from 5 years old. Being a foreigner with no residence permit, it is unlikely that anyone will ask you questions about how you educate your children during your stay, but it is good to keep in mind.
You should seek for a residence permit if you intend to stay over 90 days or exit to renew your visas. However, the visas rules are very fluid in DR and you can always pay your overstay upon exit with a small fee (what many long term tourists are doing).
Most of the transactions can be done in Dominican pesos or US Dollars, through transfers or Cash. The exchange rate in March 2022 is around 54 pesos = 1 USD.
Oil Prices are still much lower than Europe with a gallon around 5USD, which will let you do a few rides to the neighbouring provinces.